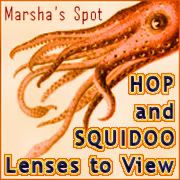 Squidoo is a place to easily share our content. It is a fascinating process and a very accessible tool. The pages of content that we then create are referred to as lenses.
My lenses
have been basically my book reviews while I get more familiar with
Squidoo
and all I can do with it.I blog and now I Squidoo, so I am probably going to cross post my work at times. Some get squeamish at the thought of re-posting content. I could be wrong, it has been known to happen before, but from what I understand there are no ramifications if the content is switched around a little, so to not post the exact same thing over and over.
I am learning this as I go and I am working on updating things so they
do not match
. With dial up, this is not only a challenge but down right disturbing at times. Thankfully,
Squidoo
is one of the places that loads fairly well for me and where I am able to actually work. That is why I love blogging so much., it actually loads for me :) that is until there are movies or a lot of gadgets involved... then I begin to cry a little.
My Dragon Rocks!
is a SquidPaws lens and not book related, just pet related. I look at my writing and sharing as a digital scrapbook of things I want to remember, and to share with my friends and family.My reflecting seems to be at the core of it all.
Creating a lens is not the hardest thing in the world and yet it's not something that just takes a few minutes to finish up on, even if you do have the content ready and available. I have surely experienced this while trying to create my own lenses. At Squidoo, the creation is made easier than many places online, giving you a ton of options and tools to quickly and efficiently create content really worth viewing.
I am only starting. The lenses I have created still need my touch here and there to make them what I really want them to be and Squidoo has the stuff I need to do that. There are many things I am longing to get a lens created for. It is always exciting to have a huge to do list! My body trembles with enthusiasm and my mind explodes not knowing which direction to begin...so, I will take a breather and begin here...with you :)